I read half of Thirteen Reasons Why during my Christmas break of 2015. I enjoyed it, but truthfully it just was not the right time for me to be reading that book; nothing against the author or storyline itself, I just was not intrigued so I DNFed it.
Then, the show came out. I decided to watch because maybe the TV show would encourage me to read the book. The story line was interesting, the acting was well done, but it was just depressing.  As someone who suffers from mental illness myself, it was difficult to literally watch a TV character also struggle with their mental health but, in the end, end up committing suicide. It was triggering to watch someone who had similar battles as me feel as if the only solution was to end her own life.
It was debilitating. It made me feel hopeless.
I appreciated the intent of the tv show to raise awareness of suicide and to encourage young adults that their words and actions can leave a lasting impact. I appreciate that the show did perform very well and a lot of people did receive the message they were suppose to. I understand that not everyone felt as hurt from the TV show as I did (which makes me glad.) However, it made me realize how important it is for, not only YA books, but any book centered around mental health to have the character receive the help they need, whether it be talking therapy, medication use, confiding in a friend, etc. Personally, if I read about a character who learns how beneficial talking therapy could be, I may be more included to actually pick up my phone and dial a therapist to schedule an appointment.
There are a million other things I could talk about in relation to Thirteen Reasons Why, but that is not the point of this post. I will save it for another blog post, should I decide to write it.
Anyway, enough of that mini rant. Here are some mental health books that will leave you feeling hopeful rather than depressed:
When We Collided by Emery Lord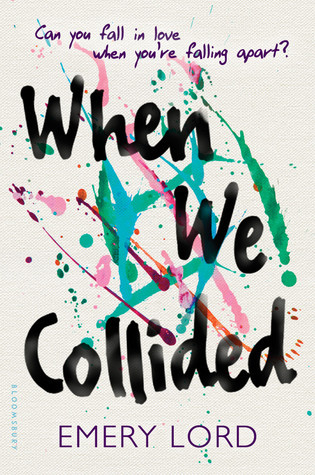 We are seventeen and shattered and still dancing. We have messy, throbbing hearts, and we are stronger than anyone could ever know…

Jonah never thought a girl like Vivi would come along.
Vivi didn't know Jonah would light up her world.
Neither of them expected a summer like this…a summer that would rewrite their futures.
In an unflinching story about new love, old wounds, and forces beyond our control, two teens find that when you collide with the right person at just the right time, it will change you forever.
Symptoms of Being Human by Jeff Garvin
Riley Cavanaugh is many things: Punk rock. Snarky. Rebellious. And gender fluid. Some days Riley identifies as a boy, and others as a girl. The thing is…Riley isn't exactly out yet. And between starting a new school and having a congressman father running for reelection in uber-conservative Orange County, the pressure—media and otherwise—is building up in Riley's so-called "normal" life.
On the advice of a therapist, Riley starts an anonymous blog to vent those pent-up feelings and tell the truth of what it's REALLY like to be a gender fluid teenager. But just as Riley's starting to settle in at school—even developing feelings for a mysterious outcast—the blog goes viral, and an unnamed commenter discovers Riley's real identity, threatening exposure. Riley must make a choice: walk away from what the blog has created—a lifeline, new friends, a cause to believe in—or stand up, come out, and risk everything.
Eliza and Her Monsters by Francesca Zappia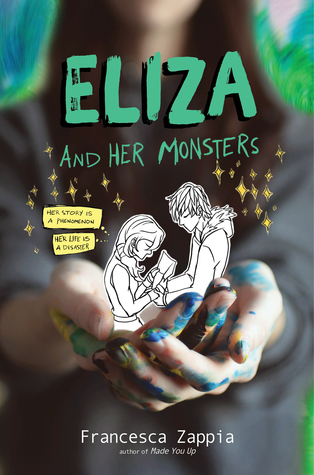 Her story is a phenomenon. Her life is a disaster.
In the real world, Eliza Mirk is shy, weird, and friendless. Online, she's LadyConstellation, the anonymous creator of the wildly popular webcomic Monstrous Sea. Eliza can't imagine enjoying the real world as much as she loves the online one, and she has no desire to try.
Then Wallace Warland, Monstrous Sea's biggest fanfiction writer, transfers to her school. Wallace thinks Eliza is just another fan, and as he draws her out of her shell, she begins to wonder if a life offline might be worthwhile.
But when Eliza's secret is accidentally shared with the world, everything she's built—her story, her relationship with Wallace, and even her sanity—begins to fall apart.
Under Rose-Tainted Skies by Louise Gornall
At seventeen, Norah has accepted that the four walls of her house delineate her life. She knows that fearing everything from inland tsunamis to odd numbers is irrational, but her mind insists the world outside is too big, too dangerous. So she stays safe inside, watching others' lives through her windows and social media feed.
But when Luke arrives on her doorstep, he doesn't see a girl defined by medical terms and mental health. Instead, he sees a girl who is funny, smart, and brave. And Norah likes what he sees.
Their friendship turns deeper, but Norah knows Luke deserves a normal girl. One who can walk beneath the open sky. One who is unafraid of kissing. One who isn't so screwed up. Can she let him go for his own good—or can Norah learn to see herself through Luke's eyes?
Goodbye Days by Jeff Zentner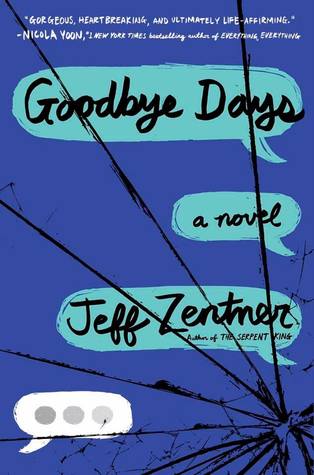 What if you could spend one last day with someone you lost?
One day Carver Briggs had it all—three best friends, a supportive family, and a reputation as a talented writer at his high school, Nashville Academy for the Arts.
The next day he lost it all when he sent a simple text to his friend Mars, right before Mars, Eli, and Blake were killed in a car crash.
Now Carver can't stop blaming himself for the accident, and he's not the only one. Eli's twin sister is trying to freeze him out of school with her death-ray stare. And Mars's father, a powerful judge, is pressuring the district attorney to open a criminal investigation into Carver's actions.
Luckily, Carver has some unexpected allies: Eli's girlfriend, the only person to stand by him at school; Dr. Mendez, his new therapist; and Blake's grandmother, who asks Carver to spend a Goodbye Day with her to share their memories and say a proper goodbye to his friend.
Soon the other families are asking for a Goodbye Day with Carver, but he's unsure of their motives. Will they all be able to make peace with their losses, or will these Goodbye Days bring Carver one step closer to a complete breakdown or—even worse—prison?
Girl Against the Universe by Paula Stokes
From the author of The Art of Lainey and Liars, Inc. comes a fresh, contemporary story about a girl coping with PTSD and the boy who wants to help her move on from the past.
Sixteen-year-old Maguire knows the universe is against her. No matter how many charms she buys off the internet or good luck rituals she performs each morning, horrible things happen when she's around. Like that time the roller coaster jumped off its tracks. Or the time the house next door caught on fire. Or the time her brother, father, and uncle were all killed in a car crash–and Maguire walked away with barely a scratch.
Despite what her therapist tells her, Maguire thinks it's best to hide out in her room, far away from anyone she might accidentally hurt. But then she meets Jordy, an aspiring tennis star who wants to help her break her unlucky streak. Maguire knows that the best thing she can do for him is to stay away, but it turns out staying away might be harder than she thought.
OCD Love Story by Corey Ann Haydu
When Bea meets Beck, she knows instantly that he's her kind of crazy. Sweet, strong, kinda-messed-up Beck understands her like no one else can. He makes her feel almost normal. He makes her feel like she could fall in love again.
But despite her feelings for Beck, Bea can't stop thinking about someone else: a guy who is gorgeous and magnetic… and has no idea Bea even exists. But Bea knows a lot about him. She spends a lot of time watching him. She has a journal full of notes. Some might even say she's obsessed.
Bea tells herself she's got it all under control. But this isn't a choice, it's a compulsion. The truth is, she's breaking down…and she might end up breaking her own heart.
It's Kind of a Funny Story by Ned Vizzini
Ambitious New York City teenager Craig Gilner is determined to succeed at life – which means getting into the right high school to get into the right job. But once Craig aces his way into Manhattan's Executive Pre-Professional High School, the pressure becomes unbearable. He stops eating and sleeping until, one night, he nearly kills himself.
Craig's suicidal episode gets him checked into a mental hospital, where his new neighbors include a transsexual sex addict, a girl who has scarred her own face with scissors, and the self-elected President Armelio. There, Craig is finally able to confront the sources of his anxiety.
Ned Vizzini, who himself spent time in a psychiatric hospital, has created a remarkably moving tale about the sometimes unexpected road to happiness.
The Weight of Zero by Karen Fortunati
Seventeen-year-old Cath knows Zero is coming for her. Zero, the devastating depression born of Catherine's bipolar disease, has almost triumphed once, propelling Catherine to her first suicide attempt. With Zero only temporarily restrained by the latest med du jour, time is running out. In an old ballet shoebox, Catherine stockpiles meds, preparing to take her own life when Zero next arrives.
But Zero's return is delayed. Unexpected relationships along with the care of a new psychiatrist start to alter Catherine's perception of her diagnosis. But will this be enough? This is a story of loss and grief and hope and how the many shapes of love – maternal, romantic and platonic – impact a young woman's struggle with mental illness.
History Is All You Left Me by Adam Silvera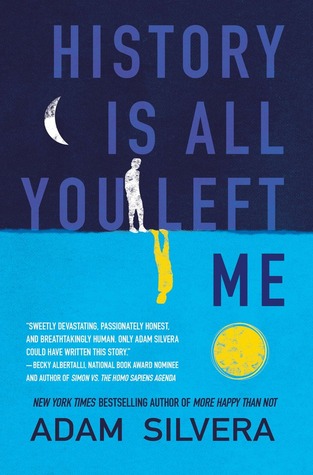 When Griffin's first love and ex-boyfriend, Theo, dies in a drowning accident, his universe implodes. Even though Theo had moved to California for college and started seeing Jackson, Griffin never doubted Theo would come back to him when the time was right. But now, the future he's been imagining for himself has gone far off course.
To make things worse, the only person who truly understands his heartache is Jackson. But no matter how much they open up to each other, Griffin's downward spiral continues. He's losing himself in his obsessive compulsions and destructive choices, and the secrets he's been keeping are tearing him apart.
If Griffin is ever to rebuild his future, he must first confront his history, every last heartbreaking piece in the puzzle of his life.
The Rest of Us Just Live Here by Patrick Ness
What if you aren't the Chosen One? The one who's supposed to fight the zombies, or the soul-eating ghosts, or whatever the heck this new thing is, with the blue lights and the death?
What if you're like Mikey? Who just wants to graduate and go to prom and maybe finally work up the courage to ask Henna out before someone goes and blows up the high school. Again.
Because sometimes there are problems bigger than this week's end of the world, and sometimes you just have to find the extraordinary in your ordinary life.
Even if your best friend is worshipped by mountain lions.

Award-winning writer Patrick Ness's bold and irreverent novel powerfully reminds us that there are many different types of remarkable.
Am I Normal Yet? (The Spinster Club #1) by Holly Bourne
All Evie wants is to be normal. She's almost off her meds and at a new college where no one knows her as the girl-who-went-crazy. She's even going to parties and making friends. There's only one thing left to tick off her list…
But relationships are messy – especially relationships with teenage guys. They can make any girl feel like they're going mad. And if Evie can't even tell her new friends Amber and Lottie the truth about herself, how will she cope when she falls in love?
---
*I feel it is important for me to note that not everyone reacts the same way to the same book.  What books I find hopeful may not be hopeful for others, just as books I find depressing may be hopeful for others. This is only my opinion.
**I have NOT read all of these books; I heard through twitter that some of these books have positive therapy and meds representation in the storyline. Also, because I have not read some of these books, I can not judge the quality of the content of each of these books.
---
If there are any other books you feel could be included on this list, let me know! Mental health books are my favorite themed books!
❤