A Thousand Pieces of You 

Author: Claudia Gray

Published: November 4, 2014

Rating: ❤ ❤ ❤ ❤

Marguerite Caine's physicist parents are known for their groundbreaking achievements. Their most astonishing invention, called the Firebird, allows users to jump into multiple universes—and promises to revolutionize science forever. But then Marguerite's father is murdered, and the killer—her parent's handsome, enigmatic assistant Paul— escapes into another dimension before the law can touch him.

Marguerite refuses to let the man who destroyed her family go free. So she races after Paul through different universes, always leaping into another version of herself. But she also meets alternate versions of the people she knows—including Paul, whose life entangles with hers in increasingly familiar ways. Before long she begins to question Paul's guilt—as well as her own heart. And soon she discovers the truth behind her father's death is far more sinister than she expected.
I read this one in a matter of two days while I was on vacation. The sort of "science fiction-esque" that this book exhibited seemed to confuse me at times; though obviously dimension travel is not real, the numerous theories from Marguerite's parents did not always come together as they should have.
Her love triangle was kinda so-so (I don't know about you, but I need love triangles to have a unique characteristic to keep me enthralled on the romance.) However, the way this subplot line "concluded" (does it continue in the sequel?? I WILL FIND OUT!) had me all: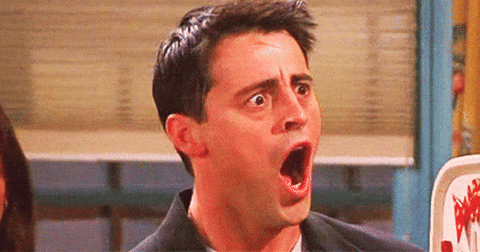 Anyway, I really enjoyed the book and, overall, it was a really fast paced delightful read. A few odds and ends that could have made it a 5/5 for me, but none the less!, I still recommend this lovely read.
Alex + Ada

Author: Jonathan Luna and Sarah Vaughn

Collecting: #1-5

Published: July 16, 2o14

Rating: ❤ ❤ ❤ ❤ ❤

From JONATHAN LUNA (GIRLS, THE SWORD, ULTRA, Spider-Woman: Origin) and SARAH VAUGHN (Sparkshooter) comes ALEX + ADA, a sci-fi drama set in the near future. The last thing in the world Alex wanted was an X5, the latest in realistic androids. But after Ada is dropped into his life, he discovers she is more than just a robot.
This graphic novel had been chilling on my shelf for… an embarrassing amount of months. For some reason, I just never realy felt inclined to pick it up and give it shot (But for some reason I felt inclined to buy it?!) Until one day, I was packing for vacation. I was looking forward to six days of freedom; so, naturally, I picked a plethora of books to rad. Alex + Ada was one of the many picked.
Finally, vacation came along and I only had a few books left on me to read. For some reason- an act of the book gods?- I picked Alex +Ada up.
And oh my god, guys.
This is turning out to be my favorite graphic novel…. EVER.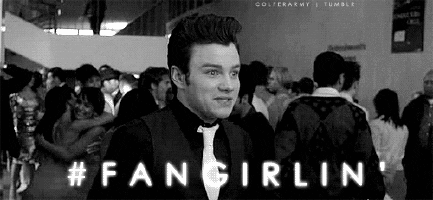 I loved the characters and completely appreciate the way Jonathan Luna and Sarah Vaughn were able to perfectly paint and capture this world Alex lives in. Sometimes, when I read a science fiction or even a fantasy book, I find myself struggling to understand the utopian, dystopian, etc. Because of the amazing writing with this book, I found this futuristic world super simple to understand. Personally, I tend to feel turned off towards a fantasy/sci-fi book if the world it takes place in is seemingly complicated.
I have been D Y I N G to pick up Volume , but unfortunately I am broke and my local comic book store hasn't had this in stock. But SOON, I will find you, volume 2, and I will devour you from page to page. (Then I'll be craving volume 3 and so the cycle will begin again *sigh*)
Spider-Gwen, Vol.0: Most Wanted?

Author: Jason Latour

Artist: Robbi Rodriguez

Collecting: #1-5

Published: November 17, 2015

Rating: ❤ ❤  ❤

The breakout hit of the biggest Spider-Event of the century is taking the comics world by storm with her own series! Gwen Stacy is Spider-Woman, but you knew that already. What you DON'T know is what friends and foes are waiting for her in the aftermath of Spider-Verse!
To be honest, this graphic novel was kind of a let down. I had looked forward to buying this and finally reading this because I absolutely adore the whole Spider-Verse world. But, this was a struggle for me to finish, and I am doubtful I will pick up a next in the Spider-Gwen series.
I suspect that a possible reason I did not fully enjoy this book is due to the fact I did not read the Spider-Verse novels; with that in mind, I may just pick up Spider-Verse then reread this specific Spider-Gwen. We shall see where my reading takes me!
Jessica Jones: Alias Vol.1

Author:Brian Michael Bendis

Illustrator: David Mack, Michael Gaydos and Bill Sienkiewicz 

Collecting: #1-9

Published: September 22, 2015

Rating: ❤ ❤ ❤ ❤ ❤

Meet Jessica Jones. Once upon a time, she was a costumed super hero — but not a very good one. Her powers were unremarkable compared to the amazing abilities of the costumed icons that populate the Marvel Universe. In a city of Marvels, she never found her niche. The self-destructive would-be Avenger is now the owner and sole employee of Alias Investigations — a small, private-investigative firm specializing in superhuman cases. When she uncovers the potentially explosive secret of one hero's true identity, Jessica's life immediately becomes expendable. But her wit, charm and intelligence just may help her survive another day. Thrust into the midst of a conspiracy that reaches the highest levels, has Jessica burned too many bridges to turn to old friends for help?
Picture this. A young girl (*cough* me) walking through a book store, post having seen the Jessica Jones Netflix series (and loving it!) AHA!, she spies the graphic novel of her dreams- Jessica Jones: Alias.. but wait, it's $25?!!! Oh, no, this young girl is too broke for that…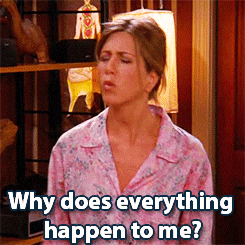 Months later, this same young girl is in a new comic book shop where all graphic novels are %20 off. Because of this rad deal, she does it, guys. SHE BUYS JESSICA JONES: ALIAS VOLUME ONE. About damn time, right?
…anyway I'm gonna stop talking (typing?) in third person now. If I would have known that I would love this graphic novel as much as I do, I would have bought it the first time I saw it in the store. I finished it in one sitting!
I completely idolize Jessica Jones, her total badass personality, and her bizarre intelligence. There were some AWESOME, unexpected surprise guests in volume 1 (I won't spoil who for you!) and the plot line was different enough from the TV show to keep me on my toes.
Am I Normal Yet?

Author: Holly Bourne

Published: August 1, 2015

Rating: ❤ ❤ ❤ ❤ ❤

All Evie wants is to be normal. She's almost off her meds and at a new college where no one knows her as the girl-who-went-crazy. She's even going to parties and making friends. There's only one thing left to tick off her list…

But relationships are messy – especially relationships with teenage guys. They can make any girl feel like they're going mad. And if Evie can't even tell her new friends Amber and Lottie the truth about herself, how will she cope when she falls in love?
If you follow me on twitter or instagram, you probably already know that I have recently bought Am I Normal Yet? and was SUPER EXCITED to read it.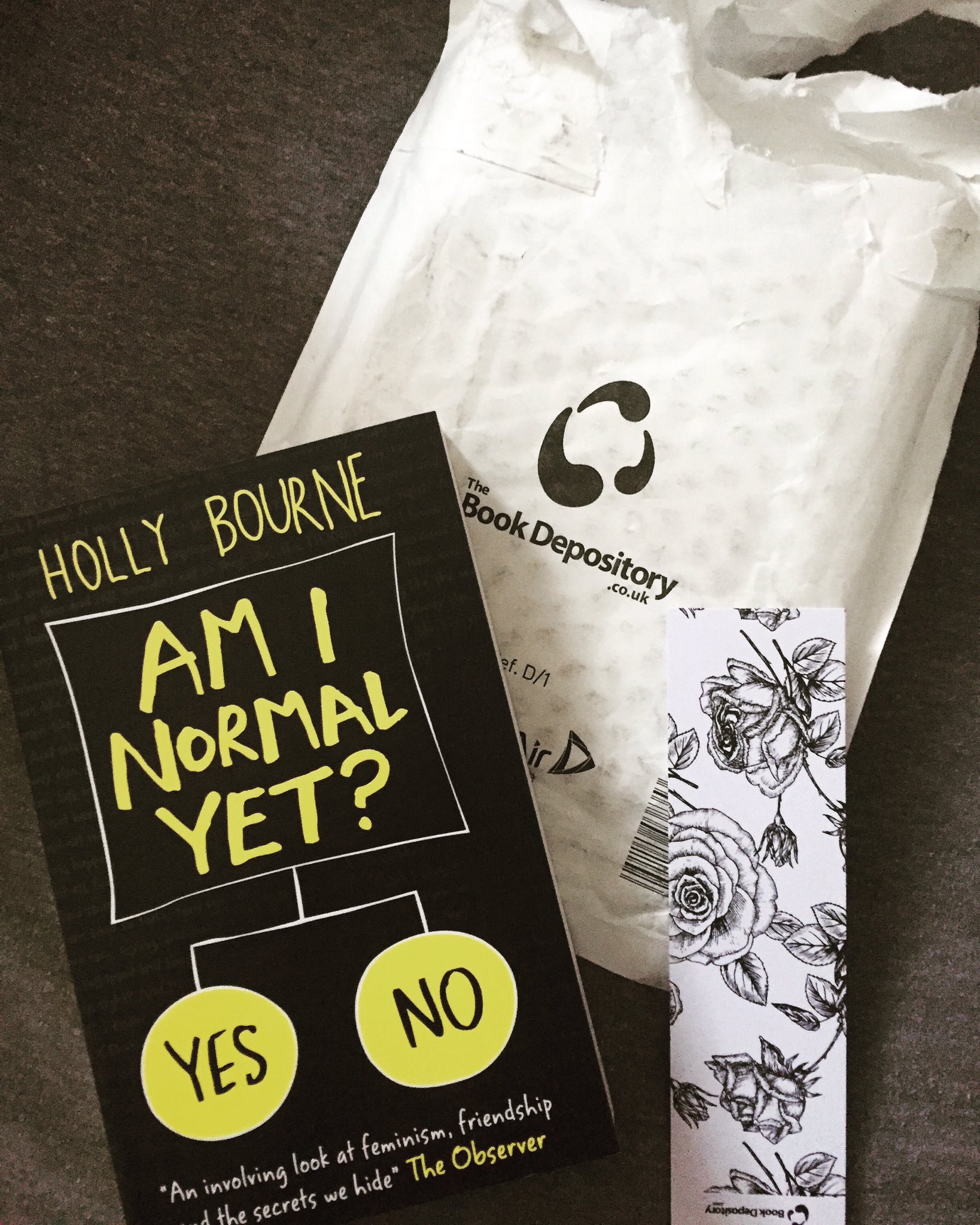 So, yes, I finally read this book. Most people joke about them having OCD just because they like having their rooms clean; but with this book, Holly Bourne gives us an insight into what it's really like to have OCD, and oh my gosh does she do an amazing job. As readers, we go through each twist and turn that takes place in Evie's brain and, though Evie's symptoms became really severe, there are thoughts where I am certain most of us could relate to.
Evie seems to think the best way for her to be "normal" among all her friends is to have a boyfriend- let's face it, who hasn't thought this way during middle school or high school? Hopefully, like me, you have all learned now that having a boyfriend does not automatically make your life better, normal, happier, etc. This idea here is what I personally think Holly is trying to drive home, and it's an important lesson for girls and guys everywhere to learn.
Anyyywho. I am extremely ecstatic to read the sequel in this series to see where this storyline goes!
(Shoutout to my #ukyachat friends for not only suggesting this book to me but encouraging me to read it cause they knew I would love it AND THEY WERE RIGHT)
The Beginning of Everything

Author: Robyn Schneider

Published: August 27, 2013

Rating: ❤ ❤ ❤

Golden boy Ezra Faulkner believes everyone has a tragedy waiting for them—a single encounter after which everything that really matters will happen. His particular tragedy waited until he was primed to lose it all: in one spectacular night, a reckless driver shatters Ezra's knee, his athletic career, and his social life.

No longer a front-runner for Homecoming King, Ezra finds himself at the table of misfits, where he encounters new girl Cassidy Thorpe. Cassidy is unlike anyone Ezra's ever met, achingly effortless, fiercely intelligent, and determined to bring Ezra along on her endless adventures.

But as Ezra dives into his new studies, new friendships, and new love, he learns that some people, like books, are easy to misread. And now he must consider: if one's singular tragedy has already hit and everything after it has mattered quite a bit, what happens when more misfortune strikes?

Robyn Schneider's The Beginning of Everything is a lyrical, witty, and heart-wrenching novel about how difficult it is to play the part that people expect, and how new beginnings can stem from abrupt and tragic endings.
Before I picked up this book, I hadn't heard anything about it. (still haven't??) So, I went into this book completely unaware of what exactly I was getting into.
As you have probably noticed already, I gave this book a 3/5 which was pretty low for me. Here's why..
I just did not understand what was so lovable about Cassidy? I mean, she was unique and different which was pretty cool but I did not understand Ezra's obsession with her.
I also do not agree with Ezra's idea that each person's life is defined by a tragedy, and each person gets a tragedy. Mainly, my question for this is: What defines a "tragedy"? A guy breaking your heart? A near death experience? (Comment below if you have more ideas for this.)
Overall, I did enjoy the story line… and I loved the ending… (I feel like this is an unpopular opinion.) But, i wish Cassidy's character would have been more appealing; there are so many more redeeming qualities she could have had.
Though I know the book was sort of based around Ezra's tragedy, I felt like the book wrongfully gave away the idea that everyone has a tragedy as devastating as Ezra's.
Ms. Marvel Vol. 4: Last Days
Author: G. Willow Wilson

Illustrator: Adrian Alphona

Collecting: #16-19

Published: December 1, 2015

Rating: ❤ ❤ ❤ ❤

From the moment Kamala put on her costume, she's been challenged. But nothing has prepared her for this: the last days of the Marvel Universe. Lucky she's got the help of Carol "Captain Marvel" Danvers! Between teaming up with her personal hero to rescue her brother and trying to keep her city from falling into an all-out frenzy, Kamala has barely had time to come to terms with the face that the world is literally collapsing around her. But the truth will catch up to her, and soon. When the world is about to end, do you still keep fighting? Kamala knows the answer. Let's do this, Jersey City.
Let me preface by saying… I LOVE MS. MARVEL. Basically, she is just so stinkin' cool and if you have not checked out any of her comics yet what are you waiting for?
Volume 4 had a lot of drama and suspense that kept me eagerly flipping each page. There's not too much I can say about this volume without spoiling anything, so unfortunately I can not say much~ but it is my favorite volume of the whole series thus far, and I NEED JULY 5 SO I CAN READ VOLUME 5 BECAUSE CLIFF HANGERS UGH. (I'm a sophisticated book reviewer, I am aware.)
Giant Days, Vol. 2 

Author: John Allison

Illustrator: Whitey Cogar, Max Sarin, Lissa Treiman

Collecting: #5-8

Published: April 12, 2016

Rating: ❤ ❤ ❤ ❤

Susan, Esther, and Daisy started at university three weeks ago and became fast friends. Now, away from home for the first time, all three want to reinvent themselves. But in the face of hand-wringing boys, "personal experimentation," holiday balls, nu-chauvinism, and the willful, unwanted intrusion of "academia," they may be lucky just to make it to spring alive.
If you follow me on Instagram or Twitter, you probably already know that Giant Days is one of my favorite comic book series.
I anxiously awaited Giant Days Vol. 2 to hit stores April 12th- when that day finally occurred, I checked ALL the book stores in my area and no one had it in stock. So, I ended up having to order it online which therefore delayed my already lengthy wait to read this masterpiece.
If you don't already know what Giant Days is all about, think of it like a sitcom of three close friends in college; they have trials and triumphs in their friendship, love life and studies.
Giant Days volume 1 and 2 were both a light and easy read, yet kept me entertained throughout. There were numerous dialogues I laughed out loud at, and I can find a relatable quality in each character. Coming from a college student, there are also numerous scenarios that are quite like my own, which had me all:
One of the reasons I love reading so much is because you realize you are not alone- in anything.
Me and Earl and the Dying Girl

Author: Jesse Andrews

Published: March 1, 2012

Rating: ❤ ❤ ❤

Greg Gaines is the last master of high school espionage, able to disappear at will into any social environment. He has only one friend, Earl, and together they spend their time making movies, their own incomprehensible versions of Coppola and Herzog cult classics.

Until Greg's mother forces him to rekindle his childhood friendship with Rachel.

Rachel has been diagnosed with leukemia—-cue extreme adolescent awkwardness—-but a parental mandate has been issued and must be obeyed. When Rachel stops treatment, Greg and Earl decide the thing to do is to make a film for her, which turns into the Worst Film Ever Made and becomes a turning point in each of their lives.

And all at once Greg must abandon invisibility and stand in the spotlight.
I binge read this book before I met the wonderful Jesse Andrews~ (aka my first book signing)
I grew up near Pittsburgh so it was pretty neat to be reading a book that took place not far from my hometown. I loved Greg's isolation he set up for himself; though I had a core group of friends in high school, there were moments when I could relate to Greg not wanting to get close to anyone. He set up a metaphorical wall between himself and the others around him in order to keep himself protected- but then, of course, he is forced to befriend the "cancer girl", Rachel.
In order for this book to have received a higher rating from me, I would have liked to have felt more for Greg and Rachel- especially Rachel. But, Jesse Andrews wrote this book without the intention of getting the readers emotionally involved (*cough cough, The Fault In Our Stars*)
There also was not much of a plot in this, which was also the point. It is hard for me to stay intrigued in a book when there is not much of a plot (except Catcher in the Rye).
What kept me pushing through the book was the hilarity instilled in the story. There were so many laugh out loud moments I had while reading this- mainly, Greg's attitude, Earl's perverted comments, and Jesse's writing (Trust me, he is even funnier in person!)
I think it will still be a few months at least until I pick up Jesse's newest release "The Haters", but when I do I have no doubt it will keep me fully amused and humored.
Papers Girls, Vol. 1 

Author: Brian K. Vaughan


Illustrator: Cliff Chiang, Matthew Wilson

Collecting: #1-5

Published: April 5, 2016

Rating: ❤ ❤ ❤

In the early hours after Halloween of 1988, four 12-year-old newspaper delivery girls uncover the most important story of all time. Suburban drama and otherworldly mysteries collide in this smash-hit series about nostalgia, first jobs, and the last days of childhood.
Paper Girls- another one of my anticipated buys, and a little of a disappointment; it took me a few weeks to get through this, whereas graphic novels are usually a quick read for me.
I think a reason why I was kinda disappointed is because I was expecting more, but this novel was really only setting up the whole story line; I have faith that volume 2 will be more entertaining for me.
What I did LOVE was the awesome feminity portrayed. A group of 80's preteen girls fighting evil?
I didn't think it was all everyone cracked it up to be, but nonetheless I will be reading volume 2 in hopes the story line picks up!
Well, there it is folks- the books and graphic novels I have read the past few months.
Have you read any of these?
Do you agree or disagree with my opinions?
Feel free to comment below or find me on social media (Twitter + Insta @xobrandilarissa) to share with me your thoughts on my recently read~ I love chatting books!
What's the best book you recently read?